Many people today owned a football shirt or two at one time or another. Nowadays, kits have become very popular whether it's the current season or highly regarded retro ones. If you're the supportive parent who wants the best for your kid or you're the coach of a grassroots football team, it can be overwhelming to buy one. There are plenty of choices available these days, and if you want to make the right choice, you should know what's best for you, your team, or your child. 
In this article, we'll share with you a comprehensive and brief guide for buying a football kit to get you started. It's important to know exactly what your options are, so we're here to help you out. 
What does a football kit usually contain? 
A football kit normally has five separate items including shorts, a shirt (also referred to as a jersey), socks (known as stockings), footwear, and shin pads. Meanwhile, goalkeepers are permitted to wear tracksuits bottoms instead of shorts. 
What are the things to look for in a football kit? (For adults)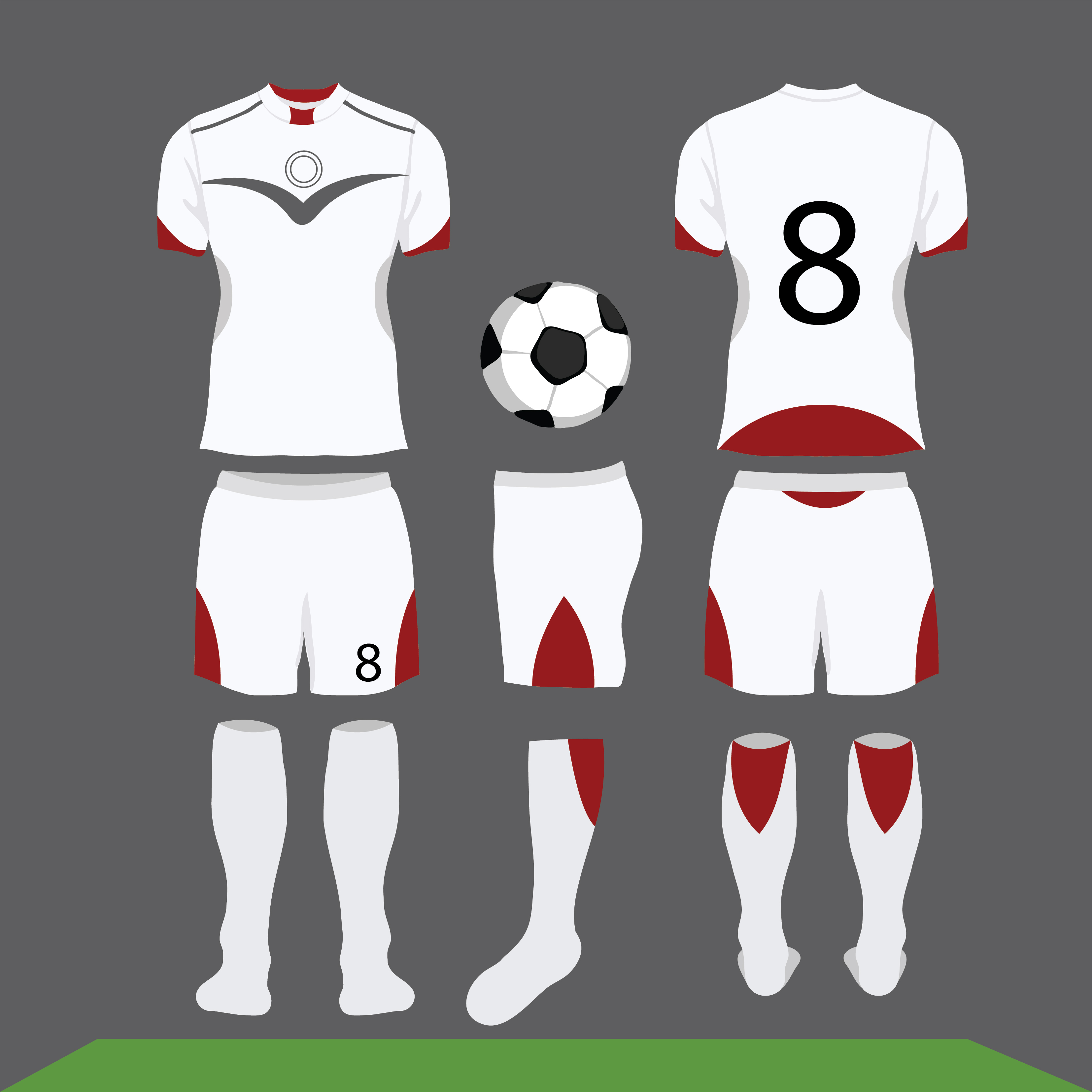 There are several remarkable offers on adult football team wear, especially if you're purchasing them in bulk. If you're a club administrator and coach, for instance, you can buy a complete kit right at the start of the season. However, it involves a crucial initial expense, it's a more affordable way to go about things in the long run. 
Most kits today come at a competitive price and you are provided with all the things you need to get your team during a long season. For instance, a full kit package must include the following for up to 16 players:
Goalkeeper shirt

Goalkeeper shorts 

Outfield shirts 

Socks 

Shirt numbers 

A kit bag 

A match ball 
Aside from that, you'll be given many colours to choose from and you must be able to have something that will represent the team's colours. Basically, these things mentioned above are what your players need to compete. 
What size is recommended for juniors?
The basic package of football kits available for adults is the same for children. Shirt sizes vary from XSY to LY or 24-inch to 32-inch chest. Shorts are normally available in waist sizes of between 20 inches and 28 inches. Also, sock sizes stretch from a child's nine to an adult six. 
Is it normal for football shirts to be tight? 
In the modern era, football kits are stuffed with almost as much technology as a mobile phone has. It has skin-tight materials purportedly created to lessen wind resistance and sweat, but it will most likely show off rippling torsos. 
How to choose the right fit? 
It's normally best to lean on larger sizes when choosing shirt and short sizes. Although you may acquire these sizes by simply asking your players, it's usually worth taking a size up to adjust for any error. It's much better for shirts and shorts to be a bit baggy than skin-tight. 
If the dimensions of your body fall between two sizes, you may consider moving down one for a tight fit, and up to one for a loose fit. At the end of the day, the sizes you may pick will depend on the personal preference of the players. 
What are retro kits? 
These are throwback jerseys, throwback uniforms, heritage guernseys, or retro kits are sports uniforms designed to look like the uniforms that a team wore in the past. These may be limited-time or one-time retro uniforms or classic football shirts and are sometimes made to be worn by teams in games, or even on special occasions like anniversaries or significant event. 
Do footballers need a new kit for every match? 
Footballers actually need plenty of kits. They need to have several kits, and right after a match you just throw the dirty kit on the floor and the kit man will collect it and wash it. The dirty stuff will be cleaned for you, and a clean kit will be waiting for you the next morning. Footballers usually have a tradition of swapping shirts at the end of matches. 
Do footballers wear something under their shorts? 
Almost all professional dri-fit shorts have makeshift underwear attached to the shorts themselves but a lot of people prefer to use underwear they endorse such as CR7 for Calvin Klein for Ronaldo for Beckham. Otherwise because of preferred heat or cold conditions one can wear Pressure shorts or dri-fit slacks. 
How to clean a football kit?  
To wash your football shirts, here are some of the steps to clean your football shirts: 
Segregate, inside out, and cold.

If you are doubting, you can handwash the shirt. 

Printing won't be damaged when it comes to washing. 

If the stains are difficult to clean, you may use the proper products. 

Dry the shirt in the most natural way, or tumble dryer with gentle care. 

Don't wash match-worn shirts. 
Ivandrea Ollero is a content writer who researches and writes custom content about home improvements, travel, finance, law, fashion, health, and beauty. She graduated from St. Scholastica's College, Manila, with a Bachelor's Degree in Broadcast Journalism in 2016. Ivandrea provides helpful tips and hacks on various topics for her readers. If she's not in the mood to write, you can find her eating ice cream while listening to rap music.